We'd love to hear any questions or comments you have about the Olympic Adventure Company. Please contact us for information about our tours or a free brochure.

Just click this address to send us mail:
Or you can reach us at our mailing address:

Olympic Adventure Co.
2019 State St.
Seattle, WA 98626
Or you can give us a call at:
1-800-OLYMPIC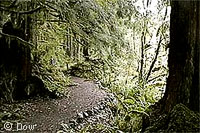 Related Links
Here are a few companies that O.A.C. is both affiliated with and recommends for any backpacking equipment.
R.E.I.
USDA Forest Service
Job Openings
O.A.C. is always looking for competent guides and knowledgeable outdoor people. For more information concerning job openings, contact O.A.C. through phone, email, or letter.